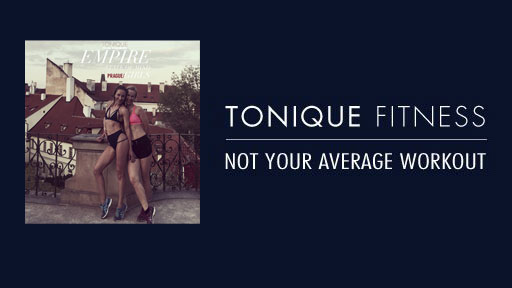 Tonique Empire State of Mind – Prague Girls
Tonique Girls is dedicated to the women who I call girls and who are significant part of Tonique.
The workout is designed to sculpt and tone your entire body at your own pace. If mistakes happen just don't give up; instead reset your mind and body and get right back into it.  As Pierre de Coubertin said "The important thing in Life is not triumph, but the struggle." 
With the Empire State of Mind Series, you travel through Europe and enjoy the sensation of sweat in spectacular settings.
Each workout can be combined with other Tonique Empire State of Mind Series workouts, as well as other Tonique workouts. Designed specially for you to create workouts that fit your own needs depending on your time availability, mood and strength each day. You can do an express pick me up or focus on a longer workout by choosing two workouts to combine together. The Empire State of Mind Series workouts are modular and will help you design your best workout ever – the one that works for you and ensures that you enjoy movement daily.
Intermediate
Purchase Options:

Tonique Empire State of Mind - Prague Girls - Download
Language: English
Audio Options: Instructions mixed with music or music only
Length: 1 hour 20 mins
Items in Your Cart
Your cart is empty
The shipping cost is based on your location and will be calculated at checkout.
Browser cookies are required for a successful checkout transaction.
The video files must be downloaded to a computer first and then moved onto a mobile device.
Please view our Frequently Asked Questions page for more product information.